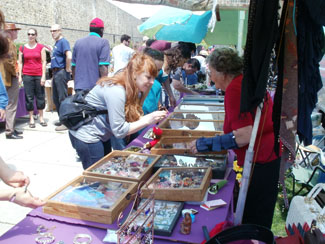 c/o philafleamarkets.org
The Philadelphia Flea Market is a gem I stumbled upon after following a slew of my favorite fashion bloggers and being jealous of their thifty finds. After doing a quick Google search, I found the Philadelphia Flea Market at
http://philafleamarkets.org/
. They have a few different locations, and their flea markets are all summer and fall long!
The particular flea market I attended was on Saturday, September 10th, at 22nd and Fairmount surrouding the Eastern State Penitentiary. Boy, were there a ton of vendors! I walked up to 22nd Street basically in awe of the number of vendors that participated. The local community also joined in and were selling a few of their own pieces in front of their homes.
I stopped by a bunch of cool places and learned a ton of interesting historical facts. I looked out for a ton of great items like genuine leather handbags and envelope clutches and even some funky jewelry!
After a long, long, long walk around 3 blocks of vendors (and that wasn't even all of them), I decided on these items.
A couple of gorgeous scarves that were only $1 a piece...
And 3 funky pairs of earrings that were also $1 a pair.


I also had my eye on a leather crossbody satchel, which I didn't end up getting, and some really cute clip-ons, that I was too tired to walk back for.
After I grabbed a bite at Little Pete's Diner and had a delicious chicken burger (yummmm) with all the fixings!

A cozy dining experience at Little Pete's (c/o Yelp!)
If I were you, I'd definitely plan to make a journey to the Philadelphia Flea when you get a chance. They have a ton of dates planned and they even have an indoor market for the winter! Maybe I'll see you there! :)